28.01.2022
Construction of the 21st century award in the "Health structures" category - SPZOZ Łysomice!
From a competition to a detailed design. From design to implementation and construction of the facility. The building has already officially opened and performs the function for which it was established - taking care of people's health.
The interesting form of the structure, innovative solutions and functionality was appreciated by the jury of the National Open Competition - Modernization of the Year & Construction of the 21st century. We received an award in the "health" category. The jury and voters decided to give a big thumb to this project. Thank you for your appreciation and we hope that this is not our last design.
Find out more here -> click here
04.05.2021
BIM survey of the office/hotel skeleton building in Warsaw
Another interesting object for the BIM survey. A building with an area of ​​over 10,000 sqm. Thanks to precise measurements based on laser scans, we were able to faithfully reproduce the building, which has a chance for a second life. Slabs, columns, over 1600 openings for installations. The scan also revealed the deflections of the slabs. Thanks to the laser scanning technology, not only we can perform construction survey, but also as-built survey to control the performance of individual building elements accordingly to the design.
The results of our work can be found here -> click here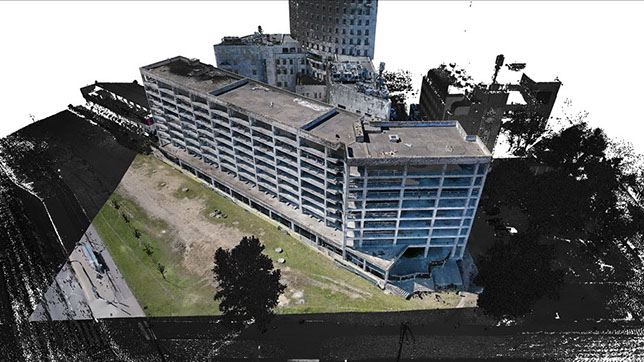 19.04.2021
BIM survey of a beautiful, historic mansion from the 16th century in Jasionna
Thanks to precise laser scanning, we were able to reliably approach the subject of the historic mansion built in 1752. The scan revealed the imperfections of the construction industry at that time. Thanks to modern technologies, we were able to precisely recreate the building by creating the BIM model based on the pointcloud.
The results of our work can be found here -> click here

28.04.2020
SPZOZ Lysomice - the works on the clinic near Torun (Poland) will be finished soon!
Despite the problems of the present time (COVID-19), the construction of the Independent Public Health Care Center in Lysomice is underway. Our project is taking final shape! Exterior finishing works are in progress and the interior is being finished. Perhaps in August the facility will be open. We are proud that we took part in this implementation from the conceptual process and winning the competition to the construction and executive design.
We encourage you to follow our messages to see the finished implementation!
Below are some photos from the construction site, but we also invite you to watch the animation that we did in the conceptual phase, showing the target implementation. Preparation for the competition - drawing documentation, visualizations, animation and charts, lasted only 10 days thanks to the use of BIM technology! A project that was made at an incredible pace while maintaining aesthetics and, above all, functionality.
An animation showing the above implementation can be found here -> click here.
01.04.2020
Lodz revitalization - Artistic backyard!
Lodz is a symbol of the revitalization processes of the 21st century. We have become a part of this process and in cooperation with a world-famous artist Andrzej Fogtt, we have created a concept and then a project commissioned by the City Council. Design of the so-called "artistic backyard" where the vault consists of huge 3.5-meter candelabra with programmable LED lighting. We hope that this unconventional idea will find approval among the inhabitants of Lodz and tourists visiting Piotrkowska street.
How about a dinner under the starry sky in the romantic light of crystal chandeliers?
Due to the current situation (COVID-19), unfortunately the project will be postponed. Implementation date is likely year 2022.
See our visualizations of the existing and planned design.
We also invite you to watch the animation of our project -> click here.
31.10.2019
BIM building survey going BIG - Karol Scheibler's factory at Tymienieckiego, Lodz
In recent years, Lodz has been subject to revitalization. We also lived to see the activities in the historic area of ​​the Karol Scheibler factory at Tymieniecki street . This architectural gem was taken over by Echo Investment. There are plans to create new office spaces, residential and commercial / recreational areas.
Our task was to scan two large post-factory buildings designated G1 and G2. On the basis of scans of buildings and excavations of foundation parts, precise BIM documentation has been prepared - survey drawings for design purposes.
An example of the results of our activities can be found on the photogrammetry and scans page -> click here.
Below is a drone movie showing the scale of buildings and interiors covered by the survey.
28.08.2019
Warsaw - 36 apartments in 3 weeks!
Another interesting topic made at an express pace. The purpose of the task was to prepare comprehensive documentation of the interiors of 36 apartments for rent in a tenement house in Warsaw.
Each apartment package included plans with plumbing, furniture arrangement, wall finishing, floor finishing and electrical installations. In addition, floor plans plus interiors elevations of characteristic areas: bathrooms and kitchens. In this particular case, I have decided to prepare the whole model and documentation in one ArchiCAD file, without breaking it into single files like one per apartment. Thanks to this, I was able to create coherent documentation covering over 600 sheets in the publisher!
Thanks to modeling the entire tenement house and all apartments with equipment in ArchiCAD, we managed to create dozens of automatic schedules of all interior finishing elements. Due to full automation, I was able to complete the topic in 21 days. Isn't BIM great? :)
Are you looking for a BIM Manager for your project? The person who will implement BIM in your company? Contact us!
15.07.2019
BIM Manager of the 2nd stage of the Diasfera investment in Lodz!
I am pleased to mention my last job as a BIM Manager with the second stage of the "Diasfera" investment in Lodz, Poland. For over 3 months I was developing a planning application for a residential and service facility. Eight floors above ground and one underground, all of which refers to the character of tenement houses in Lodz. It is over 10,000 sqm of usable area with the date of completion in 2022 by the development company "Duda Development". The most important element in the project was harmonious industry coordination, especially with the construction industry. Due to the development of documentation in ArchiCAD, based on a precise BIM model, our project team consisted only of the lead architect, dealing with project supervision and all arrangements and the BIM manager - developing the model and documentation, coordinating with industries.
Are you looking for a BIM Manager for your project? The person who will implement BIM in your company? Contact us!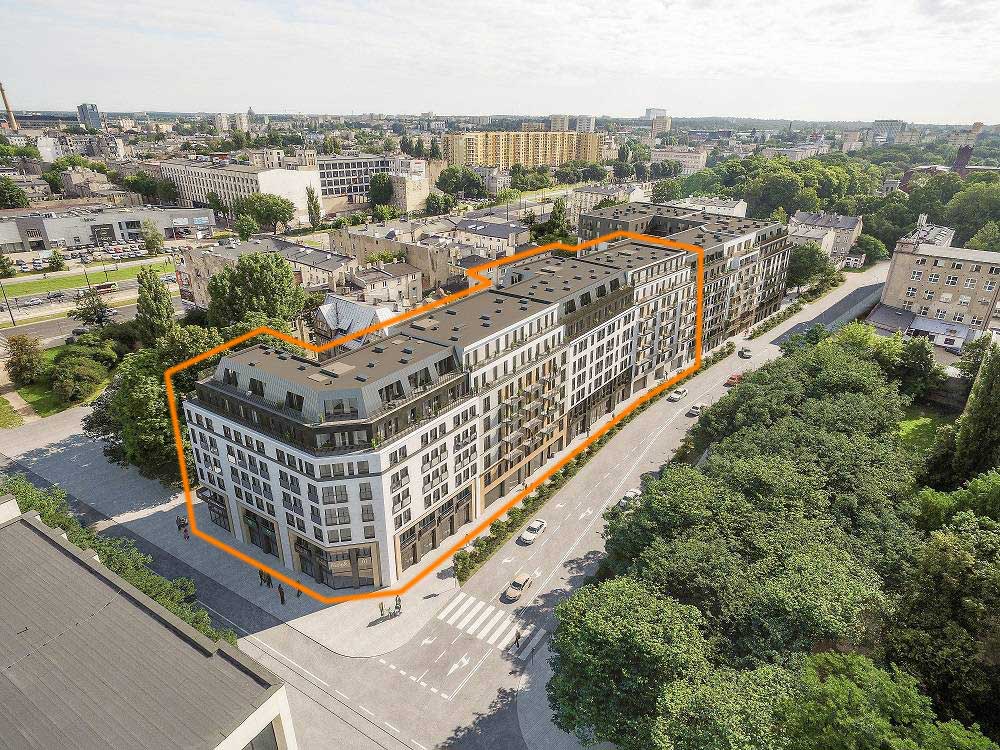 21.05.2019
BIM Manager workstation
;)
Productivity +500% ;) Slight changes in company equipment and submerging into ultrapanoramic screens. Here's how the futuristic BIM operator workstation looks like :) The Dell monitor with a width of 122 cm and 5120x1440 resolution is really impressive! There is no design that can withstand this setting.
Are you looking for a BIM Manager for your project? The person who will implement BIM in your company? Contact us!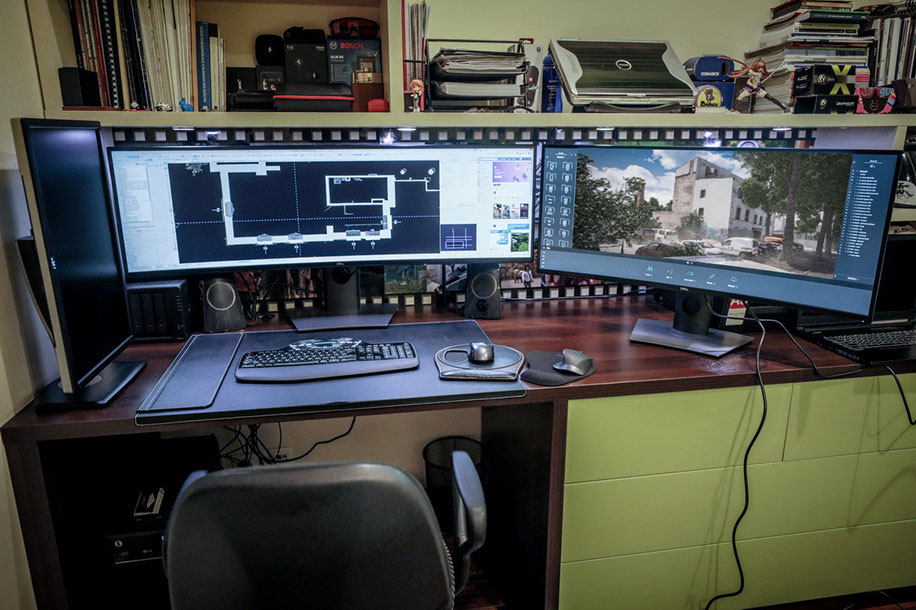 27.02.2018
ArchiCAD BIM Manager :)
It happened ... After a series of training sessions and internal exams prepared by Graphisoft, documents confirming preparation for the function of BIM Manager, have arrived. This function is quite fresh and sometimes undervalued. And yet it is about the efficient functioning of such an organism as a modern design office, based on more and more popular and inevitable BIM technology. There is no escape from the changes. The issue is, how well are we prepared for seamless cooperation on large projects. Your savings on a competent person, who knows perfectly functioning of the software and collision-free data exchange, may increase costs caused by delays and errors over subsequent investment phases.
Are you ready for change? Are you looking for a person who will implement BIM in your company? Contact us!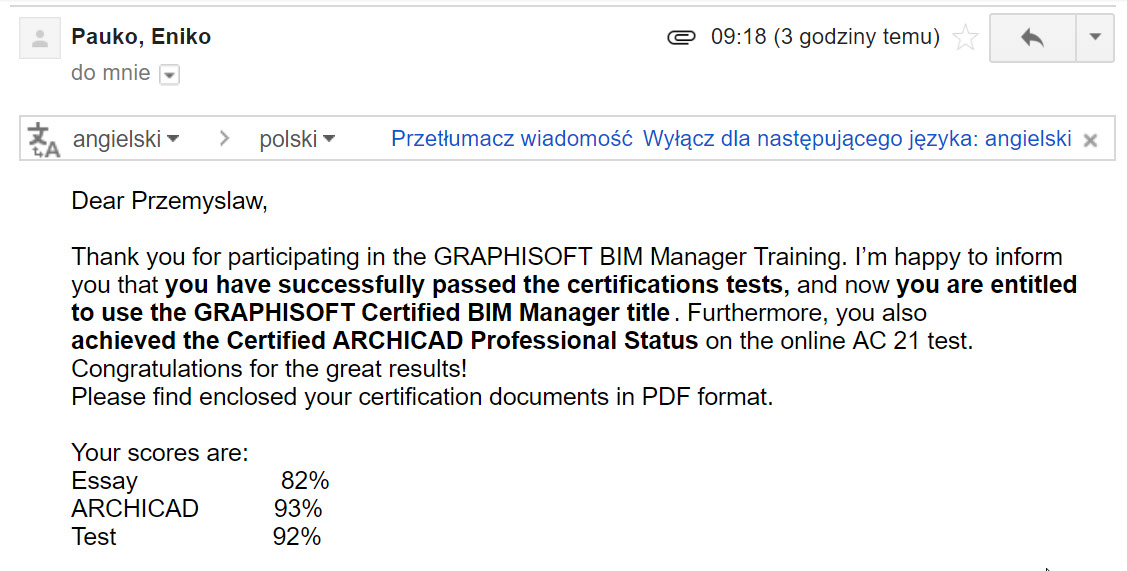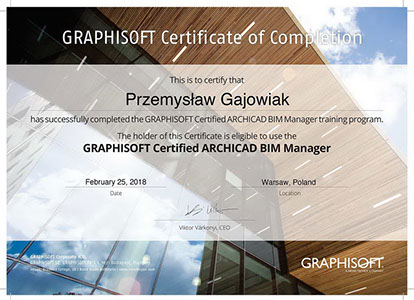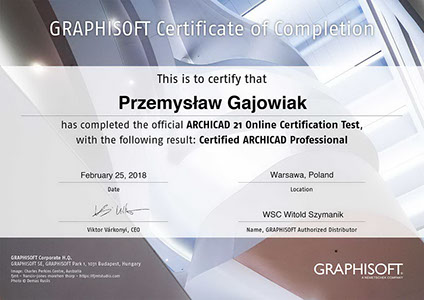 01.10.2016
Virtual Reality Festival in Lodz!
Welcome to the amazing Festival of Virtual Reality - October 28, which will be held in Lodz in the revitalized power plant EC-1!
We will be among exhibitors showing RENDERLights!
This extraordinary event is a unique opportunity to try virtual reality goggles, see interesting conferences, take part in competitions and exhibitions.
More details can be found here: http://vrchallenge.io
04.06.2016
Twinmotion for the win! Interesting article on our winning project :)
We got to the columns of Twinmotion blog, website of the real-time animation program, produced by Abvent. We invite you to read the article about our competition winning project. See, how thanks to sophisticated and extremely easy-to-use program, you can increase your chances of winning architecture competitions! We have already succeeded!
Read the article HERE.
If you are interested in the possibilities and want to purchase the software click HERE!
01.06.2016
We are in the gallery of the best Twinmotion projects!
See gallery of the best projects completed by Twinmotion. Would you like to join?
https://twinmotion.abvent.com/gallery/
We invite you to check up on Twinmotion 2016 HERE!
11.05.2016
It's official. We won the architectural competition for the Independent Public Health Care in Łysomice!
Soon we start with the planning, construction and engineering. Competition engulfed within 10 days :)
Considerable merit in assessing the architectural quality sides and functionality was to make a professional looking animation in Twinmotion. We invite you to see video clip HERE.
01.05.2016
Twinmotion 2016 on sale now! Order a presentation and explore the possibilities & power!
We invite you to get acquainted with modern software to perform real-time animation! Stay ahead of the competition and show something more than just a static visualizations. We are an Abvent partner and we are in distribution of Twinmotion 2016. We will advise, present and help make the decision.
For more information, please click HERE.
20.04.2015
Take part in the greatest experience. First time in Poland – ArchiCAD Spring Academy!
It will take place on 22nd and 23rd of May in Cracow, where world famous architects and industry leading minds will present cutting edge products relating ArchiCAD, ArtLantis & RENDERLights!
You are invited especially for the RENDERLights workshops. The new in Poland soft that will bring your productions to the higher level and dazzle your clients!
For more info click HERE.
ATTENTION! Throughout the whole event there is a possibility to buy RENDERLights in special promotion price!